ASTM
ASTM International stands as one of the largest standard regulating organizations in the world and is responsible for creating the standards for materials, products, systems, and services that affect your particle size analysis process in some way.
ASTM membership is made up of hundreds of producers, users, consumers, government, and academia spanning across over 140 countries. These volunteers work to develop the technical documents that serve as the basis of the manufacturing, management, procurement, codes, and regulations that affect dozens of industries.
ASTM is often listed within other Standards as a supportive document
ASTM E11
ASTM E11 oversees the production of test sieves, setting the standards for mesh openings, wire diameters, frame size, and cloth mounting requirements.
This standard ensures that users in any industry can be certain that their sieves will produce repeatable, consistent results.
International Organization for Standardization (ISO)
ISO has published 22,701 International Standards and related documents, covering almost every industry, from technology to food safety to agriculture and healthcare.
The International Organization for Standardization (ISO), is based in Switzerland and shares similar qualities as the U.S. ASTM, as they both utilize expert collaboration to share knowledge and develop voluntary, consensus-based, market-relevant International Standards that promote innovation and generate solutions to obstacles seen all over the world.
Governing the requirements for mesh size, construction materials, and tolerances in test sieves, the ISO standard that regulates test sieve manufacturing is ISO 3310-1:2016.
American Association of State Highway and Transportation Officials (AASHTO)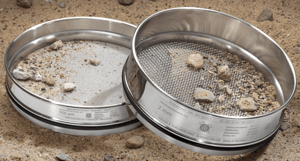 AASHTO is an international leader that sets the technical standards for all phases of highway system development. These standards govern design, construction of highways and bridges, materials, and all the technical detail in between.
To ensure the uniformity of asphalt, cement, and concrete used to construct U.S. road systems, they have developed several standard guides for particle size analysis that refer to the guidelines surrounding sieve sizes and material testing requirements.
American Petroleum Institute (API)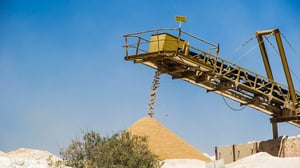 The American Petroleum Institute regulates the natural gas and oil industry. As the uniformity of size and shape, including sphericity and circularity, is critical in this industry, they have developed standards that regulate the specifications of the silica sand used in hydraulic fracturing, or fracking. This standard details the different particle size distributions required for each grade of sand which is verified using test sieves.
---
What if I Don't Have a Standard for my Material?
There are cases in which a particular material has yet to be associated with a standard. If this is the case and the general particle size of the material is known, having a mix of ASTM E11 standard test sieves, both above and below the nominal size, can help calculate the efficiency of your test sieve analysis process.
Once a mix of particles reaches a desirable performance, the quality of future production lines can be checked using sieves to verify the particle size distribution.
To gather more insight into various testing methods for material without a standard, you should search the websites of the organizations for similar materials.